4 Popular Goat Breeds that will make your dairy goat farm successful.
Dairy goat farming is increasingly gaining popularity particularly in the high potential areas where land for dairy cows is diminishing. The smaller land sizes cannot support dairy cattle, making the dairy goat a better option. Like the dairy cow farming, dairy goat farming requires proper and careful selection of breeds in order to yield good results. In this article, we look at four dairy goat breeds that do well in Kenya.
Anglo-nubian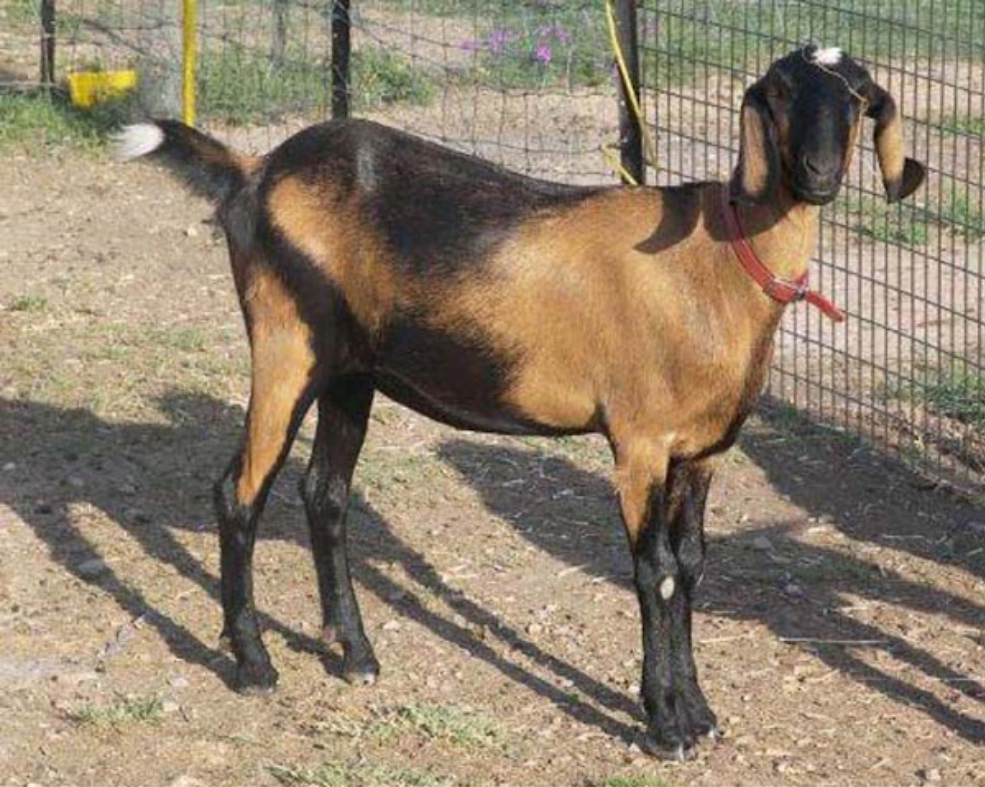 The Anglo-Nubian goat is a large goat with a Roman nose and pendulous ears that hang low and close to the head. Anglo-Nubian goats are most often black, red, or tan.
The Nubian breed of domestic goat was developed in England during the 19th century by crossing native stock with goats from India and North Africa.
Anglo-Nubian goats are multi-purpose animals bred for milk, meat, and hides. They don't produce an especially large volume of milk, but their milk is higher in butterfat and more flavorful than that of other breeds. It is good for making cheese. Because their breeding season is longer than that of most dairy goats, Nubian goats can produce milk almost year-round. They are particularly tolerant of arid, hot conditions.
As it is the best suited of the dairy goat breeds to hot conditions, the Anglo Nubian has been used in grading-up programs in many tropical countries to increase the milk and meat production of local breeds.
Toggenburg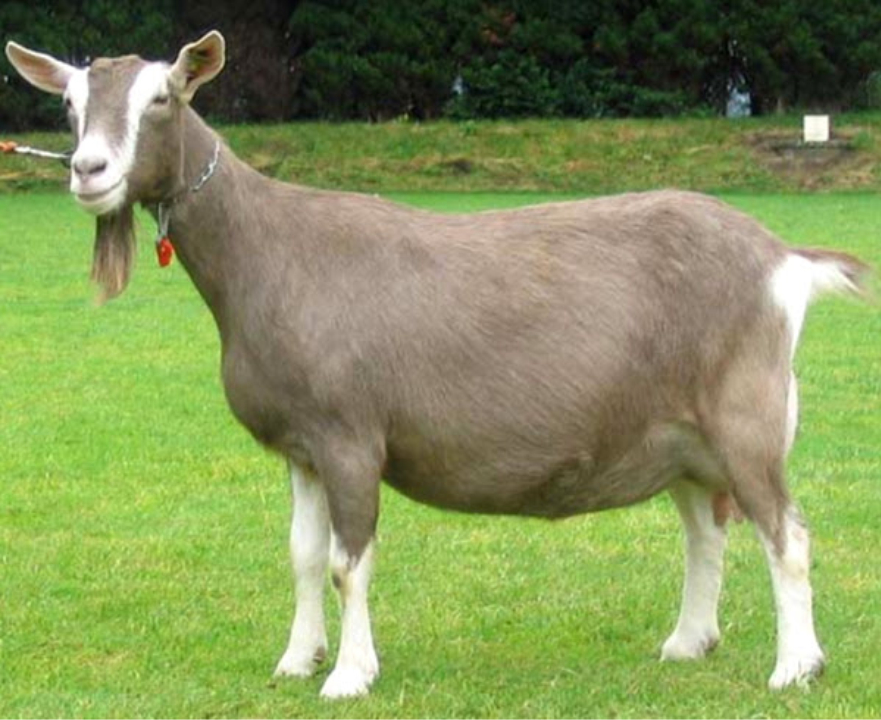 There are two breeds of Toggenburg one originating from Switzerland and the other one from Britain. The British breed is bigger than the Swiss breed with the female of the British type weighing up to 70kg and bucks up to 100 kg. With Swiss type, the female weights are in the range of 50kgs with bucks up to 70 kg. They are brown or greyish brown in colour with distinctive white stripes on the face and legs. They may be horned or naturally polled. Horns in male are long and curving back. They may have toggles (tassels) or not.
Toggenburgs have a decided personality and character, are very alert and extremely active. They are very gentle and quiet in temperament. As a breed, they tend to group together and respond well to training.They have a long body and seem bony. They are bred for milk with average milk yield of 1-3lts per day depending on management.
The breed is suited for the higher cooler regions where heat stress is not a problem and good quality fodder is freely available. Toggenburgs do not generally produce as much milk as the Saanen breed but have consistently good udders and are known for their persistent milk production over long periods. Fat yield is usually between 3% and 4%.
Alpine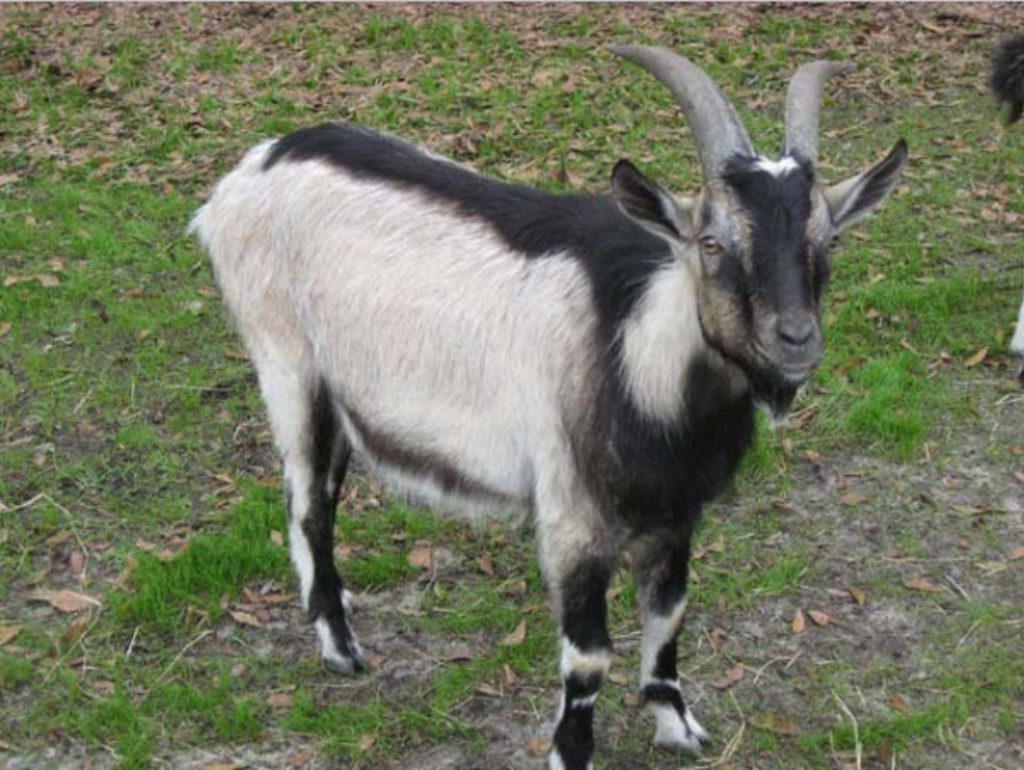 The Alpine breed was developed in Britain by crossing local goats with Alpine goats imported from Switzerland in 1903 (from near a mountain named 'Alps').
They are medium to large in size and are hardy and adaptable animals thriving in many climates. They are excellent foragers and have good jumping ability.
They have a varied coat colour with shades of grey, brown, black, redbuff and combinations. They have a pronounced mane in both male and female. They may or may not have horns.
The goat is bred for milk with average milk yield ranging from 2.5-4lts subject to levels of management.
The Female weighs from 50-60kgs while bucks weigh 65-80kg. The female ranges in height from 70-76.cm and the male 80-90cm when mature.
Saanen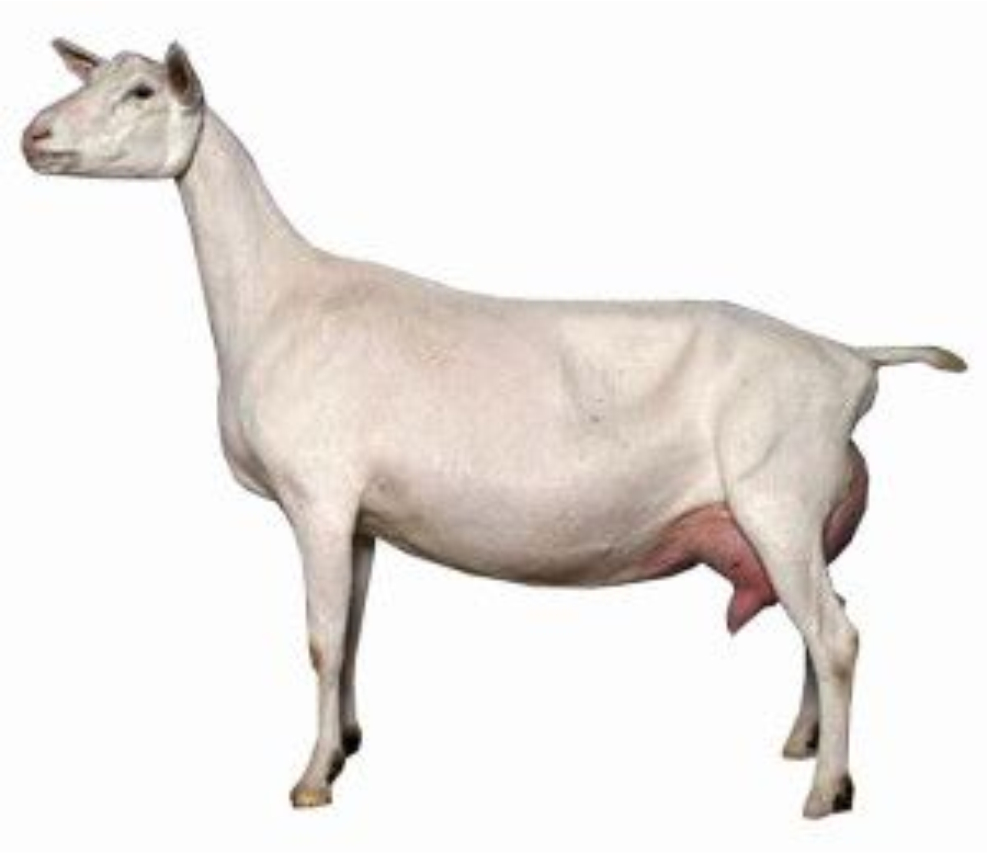 This is the milk queen in the goat world. The Saanen is a Swiss breed which originated in the Saane Valley. It is now the most popular dairy goat breed in many countries.
The coat is all white or all cream and the hair is generally short and fairly fine although some may have longer hair along the spine, hindquarters, or both. Horns may or may not be present at birth. The ears are generally pointed and erect and the head is usually lightly structured.
The breed is sensitive to excessive sunlight and performs best in cooler conditions. The provision of shade is essential
Saanen does are heavy milk producers and usually yield between 3% and 4% fat. Under good management it produces 3-5 litres of milk per day depending on management.
They are prolific and have high twinning rate. Sometimes the kids are born with both male and female organs (hermaphrodite). This has been observed on polled goats.
Mature male weighs 70-100 kg and mature female weighs 50-70 kg. The female measures 74 -80 cm in height while the mature buck measures 81-92cm. Udders are usually shapely and well attached.